Sunday Nov 21, 2021
Rehab in Utah - Drug, alcohol, addiction, depression, anxiety and mental health treatment facilities in Utah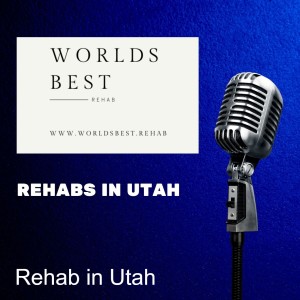 Hello and welcome to the world's best rehab podcast for worldsbest.rehab. Today we'll be talking about rehab in Utah. 
Over the past couple of years there has been an increase in the number of people seeking treatment for various addictions in Utah. So, what people often find is when they're new to seeking treatment for addiction or looking for a rehab or a treatment center, or some kind of treatment facility that the information is a little overwhelming and the process ends up being more complex. Just because it's a sector that people hopefully only have to engage with once but sometimes a couple of times, you don't become an expert in that period of time. And choosing the rehab, particularly a rehab in Utah where there's lots of options available can be quite daunting. A stressful time for your family and yourself.  
Needing to make that decision completely by yourself while you're under stress can be quite difficult. So what we're here to do is just lead you through the basics of how to navigate the rehab sector here in Utah and how to get access to the treatment that you might need. 
So first of all, when you're looking at obtaining treatment is to decide exactly what kind of rehab or treatment you're requiring. Are you requiring alcohol rehab? Are you requiring drug rehab? Are you requiring both, as in drug and alcohol rehab at the same time, are you looking for something more like an eating disorder rehab, or eating disorder treatment, depression treatment, or even something as specific as teen rehab which again, would be a separate rehab altogether? 
So once you've managed to narrow down that, the type of treatment you're requiring, you can relax a bit because, you know, we're in a rehab in Utah. It's quite an advanced industry, we have plenty of treatment options, either right here in state or in neighboring states. However, there is nothing stopping you seeking treatment elsewhere. If your insurance covered that or if you would like that or there's a special program, a specific kind of rehab available somewhere else that you'd like to participate in. 
So after you've become clear on the type of treatment that you're after, the next thing is to understand that there are two main kinds of rehab. The first kind of rehab is what's called inpatient rehab, which is, I guess, the traditional kind of rehab that most of us know about where you go, you check into a facility you stay there, the facility, the treatment or rehab center is responsible for your treatment and care while you're there, and you're taken out of your normal home environment for that process. 
Outpatient rehab is usually for milder conditions or non serious situations where you can benefit from obtaining your treatment without needing to remove yourself from your current environment. So you'd be able to carry on working or caring for your family, doing all the things you're already doing and fulfilling your obligations but you'd attend appointments at the outpatient facility, so much like going to attend a counseling appointment. Or a doctor's appointment. You can be treated there if you have, if you're requiring medical attention that will be dealt with, you can obtain counseling and group therapy and the treatment that you require to deal with your addiction or your mental health issues that you're struggling with currently. 
Then, of course, comes the cost. What most people are going to find is that the cost of rehab in Utah will be covered by your insurance or mostly or partly by at least by your insurance. If you do have that in place. If you don't have insurance in place, there are still a wide range of options available to you from free styles of rehab right through to quite expensive luxury treatment facilities to handle all manner of issues that you might be currently facing. 
Now in terms of the insurance, there are insurance companies that deal with only certain treatment providers on their approved list. That can be a little bit confusing sorting out we deal with all of them every day every treatment provider and every insurance company so if you need a little bit of help with that, just hop over onto our website and get in contact and we can just have a narrow down to help you come up with an effective shortlist that you can then go and speak to the rehabs or the treatment facilities involved and come to your own decision as to where you'd like to be based. But we can just help you navigate, navigate the quite extensive pool of information that's available to you. 
So what I'll do, I'll put the link in the show description in the podcast description. And it will be the link that will take you directly to the information on our website that's to do with rehab in Utah. And on that site, you're going to find everything specifically about Utah; alcohol treatment in Utah, drug addiction treatment in Utah rehab, Teen rehab in Utah, it's all going to be there and there'll be way you'll be able to get in contact with us live and ask us any questions that you need or submit a form about the insurance your specific situation of insurance because we do need to double check that so that we can give you the correct kind of guidance of where to go next. 
In terms of narrowing down your decision making process because it really can be quite daunting. It is a stressful point in your life? Well done for seeking treatment. Thanks for listening to the podcast for world's best rehab. And really, we absolutely wish you the very best on your recovery journey and may your future be bright and vibrant.
Rehabilitación en Utah